Necklace
The first step in determining the size of your necklace is to measure your neck size with a one-metre tape or string.
Below, you will find a more detailed size guide :
The size for a short neck :
30 to 33 cm
Necklace or morning necklace :
51 to 61 cm
Ring
Finding the perfect size to put on your ring is not easy. Here is a guide to help you in this process :
First of all, it is advisable to measure the widest part of your finger. Preferably at the end of the day when your fingers have had time to swell.
! Attention ! In case you find yourself with an intermediate size, it is preferable to favour the larger size.
What you need :
Your favorite ring
A milimetric rule
Measure the inner diameter of your ring in millimetres
Then, using the table below, you will know your ring size.
And hop, now you're ready to fill your basket!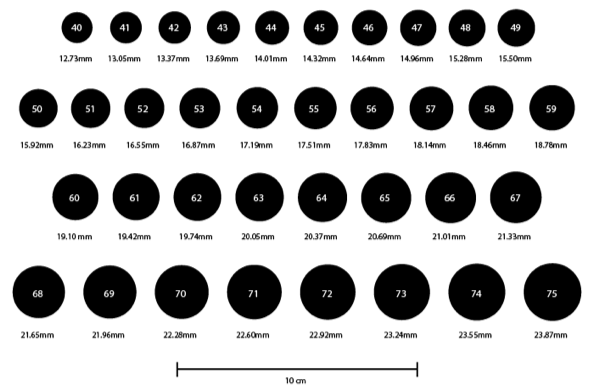 Bracelet
Flexible
To measure the circumference of your wrist, you need a tape or string of one meter. Wrap it around the base of your hand, without forcing it too hard. Mark the meeting point of the tape and measure the length.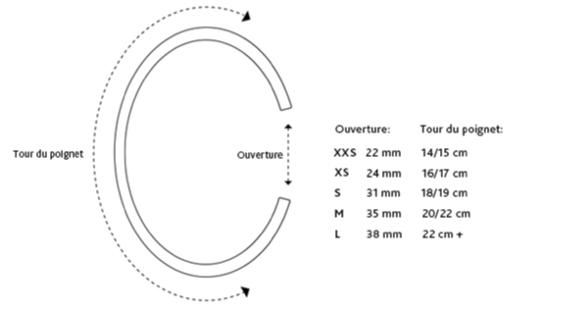 Rigid
For rigid bracelets, simply measure the palm of your hand, as shown in the illustration below.
Then, using the table, you will find the size for your bracelet.
Size of your palm
6.9 to 7.3 cm
7.3 to 7.7 cm
7.7 to 8.1 cm
8.1 to 8.3 cm
8.4 to 8.6 cm
8.6 to 8.8 cm
Minimum diameter of the ring
5.4 to 5.6 cm
5.6 to 5.8 cm
5.8 to 6.0 cm
6.0 to 6.2 cm
6.2 to 6.4 cm
6.4 to 6.6 cm